If you are used to using traditional gas hobs, you may not have had the pleasure of experiencing some of the amazing new features packed into the latest induction hobs on the market. If you are considering replacing your old hob with a state of the art induction hob, the T48FD23X2 hob from NEFF is a great choice.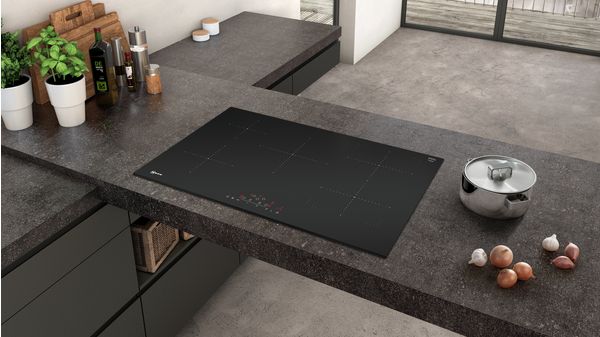 In this review from Boston Electrical Services we will be going through a few great features of the NEFF T48FD23X2 Hob.

As with any NEFF product, this induction hob offers an incredible build quality. This Induction hob comes in an incredibly elegant and sleek design, the perfect complement to any kitchen. The sleek, glass, black surface sits flush on any counter and is a welcome addition in any home. The glass finish allows for incredibly quick and easy clean up for any spillages that may occur while cooking.

This hob features 5 induction zones that can be heated separately or even combined into a combi-zone. This level of precision makes it extremely easy to cook at the optimum temperature. Each of these zones has a 17-stage power setting with the ability to also boost these settings for all zones for even faster heating. This will reduce the time that you need to wait around for the water to boil, or your food to get to the required temperature.

The surface is heated directly through induction cooking. This allows for precise cooking that stops immediately when the hob is powered off. The induction hob also features the Restart function which allows you to quickly pause, before returning the hobs to the same heat level. This can be useful when you need to leave the kitchen for any reason.

TouchControl allows for convenient and simple control of all of the features available. One touch is enough. With an inbuilt timer, able to shut off each zone upon completion, your food will be cooked to perfection every time. With automatic pan recognition technology and a safety lock included, the hobs will not heat up unless needed.
To find out more about the T48FD23X2 Hob contact us at Boston Electrical Services, and for information on our flexible delivery options in the

Boston area

. Call us today on 01205 350737, or
if you wish to find out more about the
T48FD23X2 Hob
visit our website for more information.